Archive for March, 2011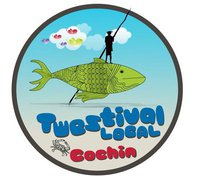 Cochin Twestival 2011 will be held on 24th March, 2011 from 5 PM to 9 PM at Kochi Gymkhana Club, Vytilla. Cochin Twestival is, in short, a Twitter Festival.
Hearing the word 'Twestival' for the first time?
It is a mega tweet-up with lots of things added. In short, it is a Twitter Festival. Twitter Festivals or Twestivals happen all around the globe once a year. There are basically two types of Twestivals: Twestival Global & Twestival Local. Twestival Global is one day, one cause all around the world and Twestival Local takes place over a weekend where cities are encouraged to support a local cause. Both versions have international momentum, but the real power of Twestival is when everything comes together on one day, giving focus to an important cause, the cause being different every year.
Venue
Twestival Cochin 2011 will be at Kochi Gymkhana Club, Vytilla. A map to the location is available at Twitter Kerala
The Program
Introduction to Twestival
The Twestival Video
Talk about Make A Difference(MAD) – @makeadiff
Twitter Malayalam by VK Adarsh
Pradeep Kuma (All India Radio Programme Director) – Malayalam Blogging
Rock Show by Kaav and Frozen Flames.
The Cause – Adarsh Chartiable Trust
Cochin Twestival aims at supporting Adarsh Chartiable Trust. They lend more than a helping hand to children who have been diagnosed with brain-developmental-disorders such as Cerebral Palsy, Autism, learning disorders which in most cases forces the children to drop out of or never attend conventional schools at all. They have grown from a modest institute looking after 7 children to an inspirational one helping over 230 children from all communities. It is a work of great proportion, and the numbers involved can definitely be increased if we pitch in with support. Adarsh encourages children from the ages of 6 months to 12 years to be brought to their school for therapy and training, where they would be relegated to the care of trained therapists and medical consultants from various disciplines, and provided counseling. It does not end there – the children are also made to feel completely at home and equally like anyone else, by maintaining the atmosphere of a normal school, with uniforms, time-tables, assembly, competitions, excursions, etc.
The sponsors for the event are HOPE(Home of Perfect Education), ITnetInfoCom, Grand Palace Hotel Qatar and Centipair. Thanks a lot to the Sponsors for helping us move forward confidently to make Cochin Twestival a success.
Cochin Twestival Details
How can you help this initiative?
You can spread the message
You can blog about the cause
You can be a sponsor
You can donate to using Give India Page
Last – but not the least, you can come for the event. Be a part.
Registration
You can register for the event in the Event Page.
For More Information…