Archive for April, 2012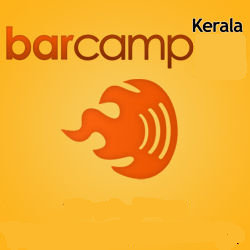 BarCamp Kerala 12 will be held on April 22nd, 2012 at Techopark, Trivandrum. Finally its here to refresh the minds with technical beverages – its Barcamp time.
Not sure what a barcamp is?
BarCamp is an international network of user generated conferences – open, participatory workshop-events, whose content is provided by participants – often focusing on early-stage web applications, and related open source technologies, social protocols, and open data formats.
Venue
BarCamp Kerala 12 will be held at Techopark, Trivandrum. For more details, go here
Registration
You can register for the event in the BarCamp Kerala Site. As of yet we have 63 attendees.
Sessions
So far we have 6 sessions. If you want to handle a session here, you can add yourself in the sessions page.
BarCamp Kerala So Far…
If you are still undecided about coming to BarCamp Kerala, checkout these reports about the previous ones…
Its time for the next Cochin Tweetup – Cochin Tweetup 28. This time, its a Gamers Meetup. Its at Area 51, Kathrikadavu Jn. The necessary details about the tweetup…
City

Cochin

Venue

Area 51, Kathrikadavu Jn

Date

14th April, 2012(Saturday)

Time

04:00 PM

Hashtag

Tweetup Count

28
Gamer Meet-Up (tweetup) is the place to have a way to interact with each other.
Any one who plays or loves games that could be a causal gamer playing simple game like snakes,solitaire, angry bird to a hardcore Counter-strike, DOTA, COD gamer.
Gamers' Meetup Kochi would also witness Gaming Competition at the venue. You could also get your handheld device. Even Showcase games
This is an initative to make it possible for gamers to have a way to interact with each other. There are plenty of features for all of them. It kick-started from Mumbai-Pune-Pondicherry-Kochi and other cities with over 300 attendees gracing the event.
One last thing – Be There!