Archive for category Other Events
BarCamp is an ad-hoc gathering born from the desire for people to share and learn in an open environment. It is an intense event with discussions, demos and interaction from participants who are the main actors of the event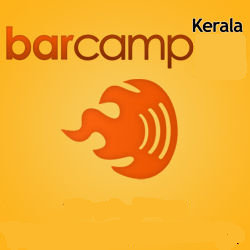 BarCamp Kerala 12 will be held on April 22nd, 2012 at Techopark, Trivandrum. Finally its here to refresh the minds with technical beverages – its Barcamp time.
Not sure what a barcamp is?
BarCamp is an international network of user generated conferences – open, participatory workshop-events, whose content is provided by participants – often focusing on early-stage web applications, and related open source technologies, social protocols, and open data formats.
Venue
BarCamp Kerala 12 will be held at Techopark, Trivandrum. For more details, go here
Registration
You can register for the event in the BarCamp Kerala Site. As of yet we have 63 attendees.
Sessions
So far we have 6 sessions. If you want to handle a session here, you can add yourself in the sessions page.
BarCamp Kerala So Far…
If you are still undecided about coming to BarCamp Kerala, checkout these reports about the previous ones…